R.E.G.G.A.E.
Antistress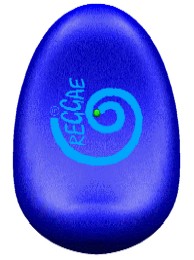 R

ECHARGER of

E

LECTROMAGNETIC

G

ROWTH

G

ENERATION

through

A

CCELERATED

E

NERGY

is a way of

CHARGING THE ORGANISMíS

NATURAL DEFENCES

Userís guide

English
Trademark and copyright information
© Copyright 2002 Giorgio Valentinuzzi
All rights reserved. No part of this document may be photocopied or translated into other languages without previous written permission from SAXHOLME LIMITED
All information contained in this document
is subject to alteration without notice.
SAXHOLME LIMITED cannot be held responsible for any possible errors or damage arising from the licensing, use or functioning of this material.
and the trademark are the property of SAXHOLME LIMITED.
is the registered trademark
of SAXHOLME LIMITED.
is patented
by SAXHOLME LIMITED.
Registered in Ireland with C.N. 326685.
Worldwide licensee I CONTEMPORANEI a. c.
CONTENTS:
Chapter 1:
Description 52
Whatís it for? 54
How it works 55
Instructions for correct use 57
Warning 57
A brief history of magnetotherapy 58
Chapter 2:
The overall form 59
Test report 67
Functioning 68
Chapter 3: Technical data 2
Plastic typology 69
Printing technique 69
Colouring 69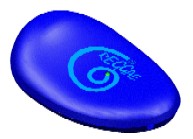 Chapter 4: Power 70

Turning on and off 70

When to change the battery 71

Changing the battery 71

Chapter 6:

75

Chapter 7: Appendices and information 84

Guarantee 86

R

ECHARGER of

E

LECTROMAGNETIC

G

ROWTH

G

ENERATION

through

A

CCELERATED

E

NERGY

is a way of

CHARGING THE ORGANISMíS

NATURAL DEFENCES

The harmless effects and benefits

of electromagnetism have been

recognised for several decades.

This device is entirely free of any

dangers and can therefore be used

even by elderly people and infants

without regard to the period of time.

WHATíS IT FOR?

Imagine that your bodyís cells are tiny batteries with a potential difference of around 70/90 millivolts between the outside and inside. The cells resonate with a frequency range of 27 and 250 MHz.

R.E.G.G.A.E.is not designed as a costly piece of apparatus that reaches all of these frequencies, but as an object for daily use which can be applied to reduce stress and re-charge the organismís natural defences.

R.E.G.G.A.E. has a notable calming effect with its frequency of 40.68 MHz: it improves general health, soothes pains, and by restoring the cellsí electric potential it stimulates the flow of oxygen and other necessary nourishing substances.

R.E.G.G.A.E. can benefit the central nervous system by means of a similar vaso-dilatory reflex. It produces an increase in mental capacity and a neuro-regulatory effect on the hypothalamus, the liver and the spleen.

HOW R.E.G.G.A.E. WORKS

When the cells that make up our body become ill for any reason, they lose their inner charge, and our body responds with pains, difficulty in making movements, etc. etc.

If the battery completely loses its charge, this is followed by the death of the cell (necrosis), and this situation leads to even more severe painsÖ

As we have seen, biopolimers and cell membranes are like tiny batteries, and when we become ill or grow old they lose their reserves of energy and run down.

The purpose of R.E.G.G.A.E. is to radiate electro-magnetic waves which re-polarize the membranes of cells which have for any reason become damaged, and accelerate the restoration of their normal functions.

R.E.G.G.A.E. helps the bodyís cells to function nor-mally again. Physicists who have made in-depth studies of polimers and cell membranes tell us that the bodyís cells react just like an ordinary radio receiver tuned to a frequency of between 27 and 250 MHz.

R.E.G.G.A.E. does not cover every frequency in this spectrum.

Each cell responds to a particular frequency; but it will be re-charged even if the frequency of does not correspond to its exact frequency.

INSTRUCTIONS FOR USE

R.E.G.G.A.E. should be used for between 2 and 6 hours a day, according to personal needs.

The longer the period of time the body is exposed to its frequencies, the greater the benefits you will enjoy.

does not have to be applied to the skin; you can just as well apply it to your jacket, pullover, skirt or trousers; hang it round your neck, or simply keep it in your pocket, since its healing impulses can penetrate your body to a depth of around 20 centimetres.

WARNING

R.E.G.G.A.E. should not be used by anyone fitted with a pacemaker, or during pregnancy.

A BRIEF HISTORY OF

MAGNETOTHERAPY

There was a time when magnetotherapy was regarded on a purely empirical or esoteric level. The earliest researches go back to the sixteenth century and were made by the scholar GILBERT.

Two centuries later another scientist, MESMER, who met with much hostility from his contemporaries, developed the technique which since then has been widely recognised on a scientific level.

At the beginning of the twentieth century the detailed researches of a Russian scientist named DANILEWSKI demonstrated that electromagnetic impulses could regenerate skin and bone tissue and strengthen the human bodyís natural defences.

Thirty years ago LAUTERBERG began to devise and realize the first mechanisms for magnetic therapy. Today, at last, as a consequence of the quality of the research that has been undertaken, this therapy has been officially recognised by the medical profession.

CHAPTER 2

The overall form of R.E.G.G.A.E

is born to meet two fundamental needs.

1) The tactile relationship between the object considered as full, and the hand, considered as empty. It is therefore the hand which generates the form of R.E.G.G.A.E.

2) Visualizaties

in the form

of a compact object

which hangs from the neck.

The overall form

of the object

responds

to these

two demands

and finds inspiration

in the ancient form

of the egg

from which it uses

the double elipse

on the orizontal plane.

In the camp

of the flat natural forms

the bone of the squid

is a compact configuration

very pleasing to the touch.

The creative element

of R.E.G.G.A.E.

unites these two

natural forms.

Recallins Michelangelo

who maintained that

the creative form

was nature twisted

and multiplied one,

two,

a hundred fold,

R.E.G.G.A.E. has become

a product in series

which is diversified

in many versions.

Respecting

these two needs,

R.E.G.G.A.E. wants to fraternize

with the users and,

while confirming

that

its benefical action works

in every possible position,

suggest two principal modes of use.

The first mode

is the intimate one

of holding in the hand

an object pleasing

to the touch,

which can be manipulated,

twisted

and caressed harmoniously.

The second

is to exhibit

on oneís neck

a refined object,

whose

colours can be selected

according to the

look of the day

(like watches

and trinkets

which also personalize

the weaver culturally).

test report

EN 50082-1: 1997

Electromagnetic compatibility - Generic Immunity standard - Part 1 Residential, commercial and lighet industry.

EN 55011: 1991;A1/A2: 1998

Limits and methods of measurement of radio disturbance characteristics of industrial, scientific and medical (ISM) radio frequency equipment

EN 60601-2-3 1998-02

Medical electrical equipment

Part.2: Particular requirements for the safety of short-wave therapy equipment

Functioning:

by means of RF impulses with a duty-cycle relationship of around 40%.

Function is based on impulses with a continuous RF emission.

Chapter 3:

Technical data 2:

Plastic typology:

Material: ABS

Printing technique:

Injection

Colouring technique:

Plastic masterization

Tampography

CHAPTER 4

POWER:

Powered by a 3 volt lithium battery.

Power consumption is as follows:

If the tension of the battery is taken to vary between 3.3 V when it is new and 2.8 V is the minumum tension for functioning, if consumption is 0.9 mA, optimum duration is calculated as follows:

2430 270mAh : 0.9 = 300 hours

These data are obviously theoretical and depend on the quality of the battery.

Turning on and off: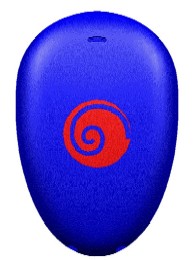 Tactile switch.
This is positioned below the circle showing the registered trademark O. Pressing lightly with the fingertip will turn on and and a flashing light situated on the concave side tells you that it is radiating its health-working frequency.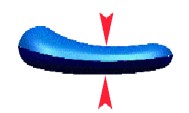 When to change the battery:
If the green light is no longer flashing, this means that the battery has run down.
Changing the battery:
1) Using the point of a small screwdriver, press lightly on the groove situated on the sliding panel on the convex side of R.E.G.G.A.E.
Turn the screwdriver gently clockwise.

The sliding panel will open up, and the battery will slide out with it.

4) Remove the battery from the sliding panel with your fingers and replace it

The new battery should be placed in position in the sliding panel with the + sign facing up.
WARNING!!!
If the battery is placed incorrectly
(with the -
sign facing up
will be seriously
damaged R.E.G.G.A.E.
and will no longer function!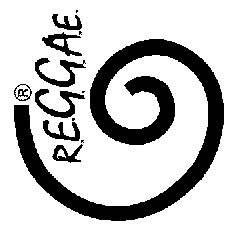 THE LOGO OF R.E.G.G.A.E.
RECALLS AN
ANCIENT SYMBOL,
PERHAPS EVEN CELTIC.
A POWERFUL STREAM FLOWS OUT
FROM A POINT
IN THE SPRINS
AND SPREADS ITSELF
OVER THE ZONE.
ITALIAN DESIGN
APPLIED TO
AMERICAN
ELECTRONIC
TECHNOLOGY
IS LIKE
A LIFEBOAT
SETTING OUT
ON A RESCUE
MISSION
ACROSS
THE OCEAN
OF STRESS
THE
SOPHISTED
SUBTLE
ENERGY
RADIATED
BY R.E.G.G.A.E.
LIBERATES
POSITIVE
FORCES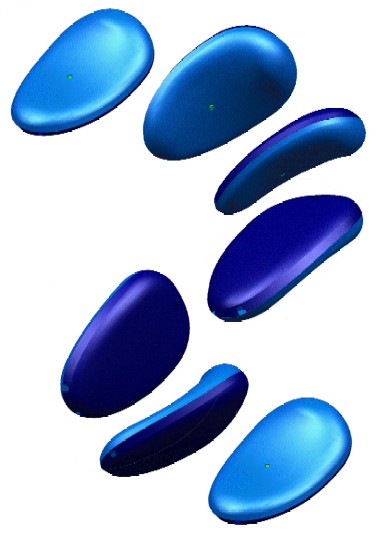 IT RECHARGES
WORN-OUT
CELLS
IT HELPS YOU
TO DISCOVER
INNER
SERENITY
IT MAKES IT
EASIER FOR YOU
TO CUT DOWN ON
OVER-EATING
LIMIT TOBACCO
CONSUMPTION
REGAIN
CONFIDENCE
IN YOURSELF
ITíS AN AID TO
OVERCOMING
SHYNESS
BANISHING
LONELINESS
AND
DIFFICULTIES
IN FORMING RELATIONSHIPS
WITH OTHER PEOPLE
MAKING
SEXUAL
CONTACTS
WITHOUT
STRESS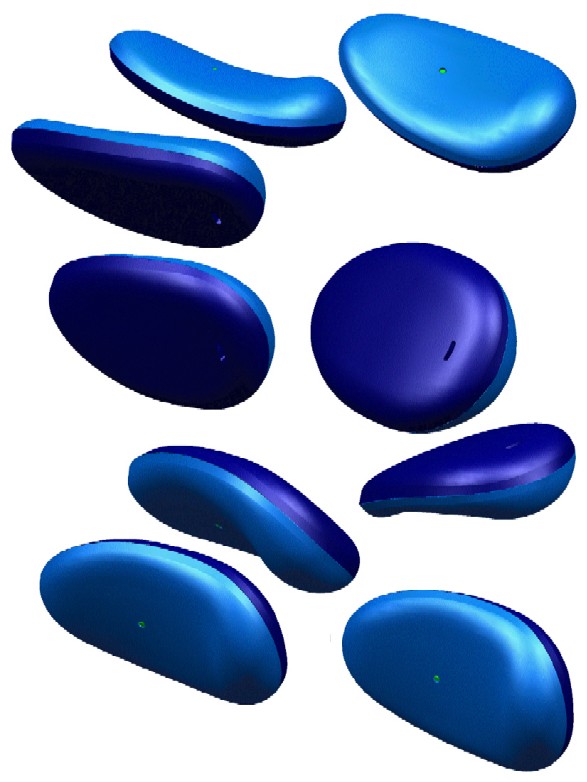 CHAPTER 7
Appendices and information
Limited guarantee I CONTEMPORANEI a. c.
Product Duration of limited guarantee

A) Extension of limited guarantee

1) I CONTEMPORANEI guarantees that the product described above shall be free of any defects relating to materials and workmanship for the above-mentioned period from the date of purchase.

2) The limited guarantee provided by I CONTEMPORANEI applies only to any defect discovered in the course of normal use of the product, and not to:

a) faulty changing of the battery;

b) bringing into contact with water of corrosive substances which could cause damage to the outside or inside;

using the product in conditions contrary to the productís specifications.

3) During the period covered by the guarantee, I CONTEMPORANEI shall at its discretion exchange any product which is found to be defective.

4) In the case of I CONTEMPORANEI being unable to exchange the product within a reasonable period of time, in accordance with the established guarantee, the purchaser shall be entitled to a refund of the purchase price on return of the product.

5) I CONTEMPORANEIis under no obligation to exchange a faulty product or refund the purchase price without the return of the original product.

6) The I CONTEMPORANEI limited guarantee is valid in all countries in which I CONTEMPORANEI products are distributed.
GUARANTEE
The guarantee covers the replacement of any components of Reggae accepted as defective in origin (faulty manufacture) exclusive of:
I CONTEMPORANEI a. c.
Via Mercatovecchio, 28
33100 UDINE (Italia)
R.E.G.G.A.E. is guaranteed for two years from the date of purchase, shown on the receipt, which must always be attached when clalming repairs. Otherwise the guarantee will not be recognized.
N.B.
We recommend preservation of the packing, in case of despatch for repair or replacement

COVER NOTES
Graphics project, text and Copyright
Giorgio Valentinuzzi 2002
Idea & design
Giorgio Valentinuzzi & Luciano Di Sopra
Trasl. from Italian by Andrew Huth and Gerald Moore
2002
all rights reserved
www.icontemporanei.it/us/net/tv/info/ etc. etc.
a special offer
by
I CONTEMPORANEI
ULTIMI 300 PEZZI